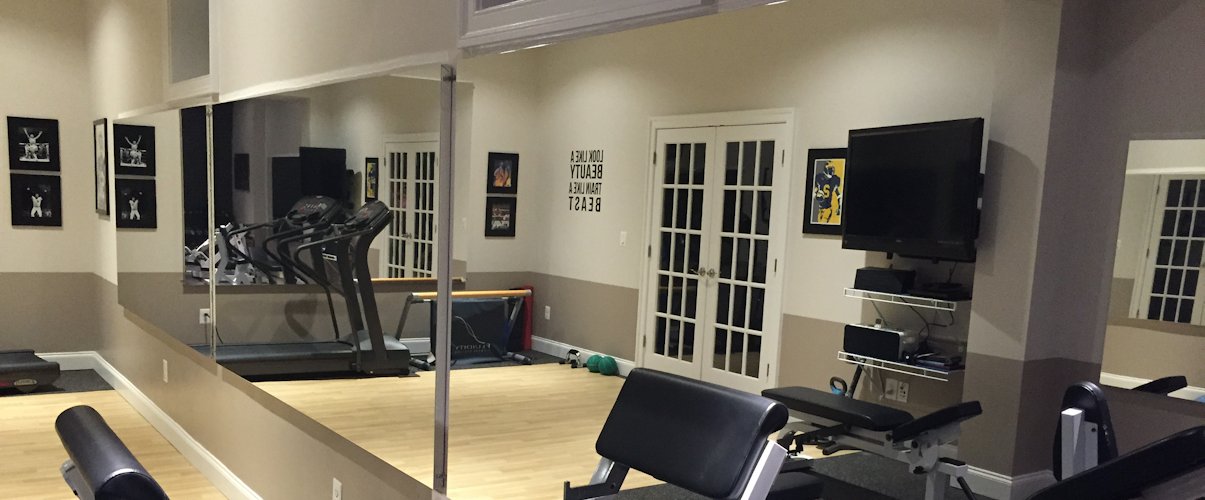 Glassless Mylar® Mirrors
Our lightweight non glass mirrors use a Mylar® film that has been treated with an incredibly reflective surface. This surface is 90-92% reflective, whereas a standard household glass mirror is typically around 70%. The Mylar® is then heat-shrunk around a lightweight aluminum frame. Mylar® film is extremely heat sensitive and shrinks up tightly when heat is applied. This process creates a perfectly flat image surface for the best reflection possible.
Mylar® Film:
Mylar® Film, also known as BoPET, is a polyester film initially developed by Dupont® in the 1950s. It is used in many industries due to its strength and chemical properties for retaining heat and gas, plus, is also used for electrical insulation.
More uses for this remarkable product are still being discovered today. According to Wikipedia, some common uses for this material are food packaging, solar, marine and aviation applications, electronic and acoustic applications, plus much more.
Gtech Fitness® Glassless Mirrors take advantage of Mylar® Film properties since it shrinks up tightly when the heat is applied and holds that tightness after the heat is removed. This process enables the production of one of the lightest, most reflective mirrors available on the market.
Glassless Mirror Installation:
With the extremely lightweight design, our glassless mirrors are very easy to install. Mounting to the rolling stands can be a one-person job, but it will take two people to mount to the wall due to their size.
Each glassless mirror comes with four pre-drilled holes on the back of the mirror, four L-brackets, and four screws that go into the back of the mirror. The customer must supply four screws that will go into the wall-type they are mounting to, such as studs, drywall, brick, or other wall types.
The L-brackets have two holes per bracket, one for attaching to the mirror and one for connecting to the wall.
Glassless Mirror Mounting Instructions:
Click to view glassless wall mirror mounting instructions.
Click to view glassless rolling mirror wheel mounting instructions.
Glassless Mirror Image Quality:
Due to how our glassless mirrors are made, there is no image distortion or "funhouse" mirror effect. When the Mylar® film is heat-shrunk around the aluminum frame, this creates a perfectly flat surface. When the mirror surface is flat, there is no image distortion.
When large glass mirrors are mounted to a wall, the mirror will typically flex and adhere to the wall surface. Most walls are not perfectly flat.
If the wall is not perfectly flat and the glass mirror adheres to the wall shape, there will be mirror flexion. This mirror flexion leads to image distortion. This distortion is predominately seen with large glass mirrors, and especially noticeable the further you step away from the mirror.
With our manufacturing process utilizing a lightweight internal aluminum frame, the strong internal framing helps prevent mirror flexion, and this creates a better image reflection.
If distortion is seen after wall mounting our mirrors, this is typically caused by an uneven wall when the screws are completely tightened down, causing the aluminum frame to flex. Simply back out the mounting screws a bit, until the aluminum frame returns to its flat position. This will remove the image distortion.
Wall Mounted vs. Rolling Stand Mirrors:
Our glassless mirrors are available as glassless wall-mounted mirrors or with rolling stands. Plus, they can be converted at any time to either wall mount or rolling stand versions after your initial purchase. This gives you the ability to change your wall mirror to a rolling stand mirror, or vice versa, as your facility needs change.
The ability to change from wall-mount to rolling mirrors gives you, or your facility added versatility that traditional glass mirrors may or may not be able to provide. Existing Gtech Fitness® wall mount mirrors would require the purchase of rolling stands to be converted to glassless rolling mirrors.
Buy Glassless Mirrors Online at Gtech Fitness
Glassless Mirror Applications:
Due to their lightweight design and exceptional versatility, Gtech Fitness® Glassless Mirrors are used in many applications, such as gyms, personal training studios, dance studios, school weight rooms, military, colleges, and commercial fitness centers.
However, they are not limited to these settings and have been placed into other commercial applications, such as storefronts, medical clinics, hospitals, physical therapy clinics, etc.
Common Facilities:
Apartment Fitness Rooms

Condominium Exercise Rooms

Corporate Gyms

Dance / Ballet Studios

Fire Department Gyms

Government Gyms

Gymnastics Facilities

Home Gyms

Hospitals

Hotel Exercise Rooms

Martial Arts / Karate Studios

Medical Offices

Military Fitness Centers

Office Buildings

Parks & Recreation Facilities

Personal Training Studios

Police Workout Rooms

Physical Therapy Clinics

School Weight Rooms

Spas & Resorts

Sports Rehab Facilities

Storefronts

Wellness Centers

Commercial Fitness Centers

Church Fitness Programs

Chiropractic Clinics
Made in the USA:
Our glassless mirrors are proudly made right here in the USA! A USA based manufacturing plant allows for absolute control over product material, components, and quality. Each mirror is quality inspected before packing for shipment to your location, ensuring the best possible customer experience when shopping online for a viable, affordable mirror product.
Glassless Mirror Durability:
There are pros and cons to both glassless and glass mirrors. However, there are many upsides to glassless mirrors for certain settings.
Most people envision an unbreakable product when speaking of Mylar® mirrors. In reality, both glassless mirrors and glass mirrors can be damaged. The primary difference is dealing with broken glass and liability or not having to deal with it.
In general, most people stay away from mirrors in public facilities, but there are cases where a weight plate or dumbbell hits a mirror by accident. These types of occurrences are why our mirrors were made to help eliminate potential injury and potential liability.
If our glassless mirrors are impacted, one of two things will happen; the mirror film will tear or dent. Either way, there is no broken glass. Torn mirrors will have to be replaced, but most dents can often be repaired, depending on the severity of the impact.
Glassless Mirror Dent Repair:
If the mirror film is dented, in most cases, the dent can be repaired entirely. For minor dents, a hot blow dryer can be used, and for major dents, a heat gun will be needed. We can supply heat gun repair instructions upon request by using our Contact Us page. Customers will need to provide their order information when requesting mirror repair information.
If a Mylar® mirror is impacted hard enough to tear the Mylar® film, the impact was relatively severe and could have been enough to crack or break a traditional glass mirror. If the mirror film is torn, the mirror will have to be replaced, but keep in mind that broken glass and potential injury were avoided.
Glassless Mirror Available Sizes & Weights:
As mentioned above, the manufacturing process creates a mirror that offers better image quality than most glass mirrors. Also, it produces large mirrors that are very lightweight. Our largest 6'x8' mirror only weighs 16 lbs., while our smallest 2'x6' mirror weighs only 7 lbs.
Sizes & Weights:
(Weights shown below are without the available rolling stands.)
2'x6' - 7 lbs
2'x8' - 8 lbs
3'x6' - 9 lbs
3'x8' - 10 lbs
4'x6' - 10 lbs
4'x7' - 11 lbs
4'x8' - 13 lbs
5'x5' - 10 lbs
5'x6' - 11 lbs
5'x7' - 12 lbs
5'x8' - 13 lbs
6'x6' - 12 lbs
6'x7' - 15 lbs
6'x8' - 16 lbs
Buy Glassless Mirrors Online at Gtech Fitness
Compare Glassless Mirrors:
| | | |
| --- | --- | --- |
| Features: | Gtech Fitness® | Mirrorlite® |
| 90-92% Reflective | Yes | Yes |
| Fire Rated Aluminum Foil Backing | Yes | Yes |
| Fire Rated Fiberglass Reinforced Backing | Yes | Yes |
| 4-Corner Weld Machine Cut Aluminum Frame | Yes | No |
| Packing includes honeycomb packaging | Yes | No |
| 100% custom made virgin polyethylene | Yes | Yes |
| Made in the USA | Yes | Yes |
| Made by Mirrorlite® | No | Yes |
| Shipping Insurance Included | Yes | No |
Where to Buy Glassless Mirrors:
At Gtech Fitness® you can buy Glassless Mylar® Mirrors from our SSL secure website. We ship our line of glassless mirrors to any of the 48 contiguous United States. Plus, we offer some of the best prices available with quantity discount purchases, all of our pricing includes shipping, so there are no added handling fees or shipping charges on checkout.
Glassless Mirror Customer Review Video:
Recent Posts
Glassless Mylar® Mirrors Our lightweight non glass mirrors use a Mylar® film that has …

Whether you're looking to lose weight, build muscle tone, or embark on a healthier lifesty …

Advantages of Weight Stack Machines You'd be hard-pressed to find a reputable gym that do …