Strength Bands | Body Solid
We offer Body Solid (BSTB) Strength Rubber Bands in very light, light, medium, heavy and very heavy resistances to accommodate a wide range of uses and individual fitness levels. These bands can be used for both strength training and aiding in stretching exercises.
Exercise strength bands are typically used for attaching to power cage and bench press band pegs to create "progressive resistance" through the range of motion during a lift. For example, instead of using a set resistance of 225 lbs on a bench press where the resistance is 225 lbs through the full range of motion, by incorporating workout bands the 225 lbs resistance will increase as the weight is pushed away from the chest due to the added resistance from the stretching bands.
Body Solid Weight Training Bands are sold individually for those that are looking to replace a band in an existing set or looking to purchase for other uses. They offer commercial rated construction and are ideal for home gym use, schools, college athletics, personal training and gym use.
Features:
Sold in singles
Smartly designed strength enhancing tool
Ideal for progressive resistance training
Can be used to increase or decrease resistance on exercises
Color coding for easy resistance selection
Flexible usage – on its own, or with free weight equipment with band pegs
Great for commercial use in gyms, aerobic classes and fitness centers
Commercial grade
Available Sizes & Colors:
Very Light - Yellow - 41"L x 1/2" W
Light - Green - 41"L x 3/4"W
Medium - Red - 41"L x 1 1/8"W
Heavy - Blue - 41"L x 1 3/4"W
Very Heavy - Purple - 41"L x 2 1/2"W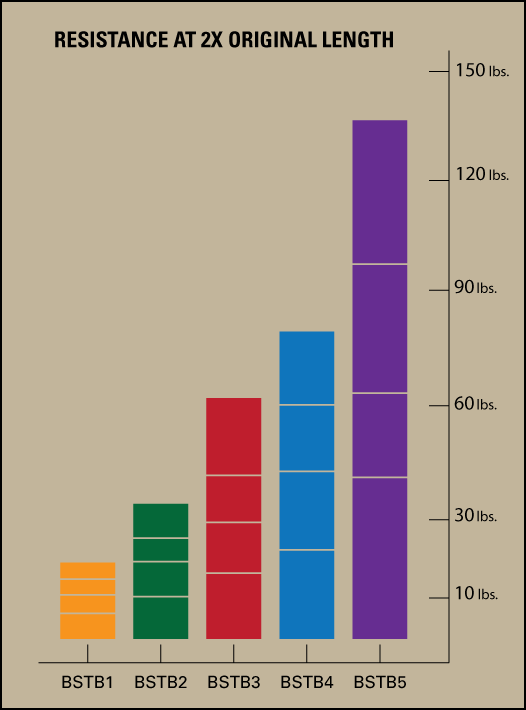 Delivery Info:
Ships:

FedEx Ground

Leaves Warehouse:

3-5 Business Days

Average Delivery from Order Date:

6-10 Business Days

Shipping Cost to Lower 48 United States:

$0.00
Bulk Pricing:
Buy 2 - 4 and get 10% off
Buy 5 or above and get 15% off
---
SKU:

BSTB
Condition:

New
Shipping:

$0.00 (Fixed Shipping Cost)
0 Reviews
Be the first to review this product.
Add a Review