Powerblock
Powerblock Elite 5-90 Set
Powerblock Classic 90 Dumbbells are our most versatile home dumbbells, and our most space-efficient. When saving valuable space is the primary concern without losing dumbbell functionality, this set is the answer.
These adjustable dumbbells measure only 16" in length with the largest 90 lb. size. This is also the storage position, with all other available increments stacked within. This set replaces 28 pair of traditional dumbbells that would weigh 2565 lbs. in total. Plus, ranges from 5-90 lbs. and is adjustable in 2.5 lb. increments.
Powerblock Dumbbell Sets can slide under most beds for compact, easy storage. Now that is amazing technology!
This Powerblock Dumbbell Set features quality steel plates stacked on top of each other. Weight selection is much like changing weights on weight stack machines with the use of a selector pin. Each weight plate features a color-coded sided bar and corresponds to a color chart on the top of each dumbbell designed to aid in fast and easy weight selection.
Includes:
(2) Dumbbells 5-90 lbs. Each
Features:
Strong steel weight plate construction
Up to 90 lbs. per Dumbbell
2.5 lb. Increments
Max Dumbbell Length: 16"
Replaces 28 pair (2565 lbs.) of traditional dumbbells
Recommended Stand: Power Block Large Stand
Made in the USA
Designed for Home Use Only
Home Use Warranty:
10 Years against manufacturer defects
Delivery Info:
Ships: UPS Ground
Leaves Warehouse: 3-5 Business Days
Average Delivery from Order Date: 6-10 Business Days
Shipping Cost to Lower 48 United States: $0.00
Powerblock Large Stand Option:
Make dumbbell weight changes faster and easier with the addition of the Powerblock Large Dumbbell Stand.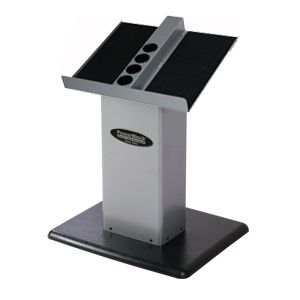 ---
SKU:

El-ST2-90-1
Condition:

New
Shipping:

$0.00 (Fixed Shipping Cost)
5 Reviews
Power Blocks
Really easy to put together. It arrived earlier than expected.
Fantastic!
Best price, great product, fast delivery!
Add a Review